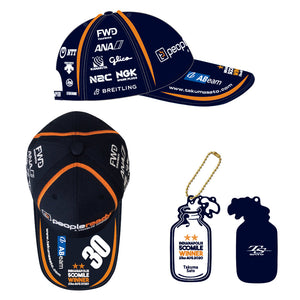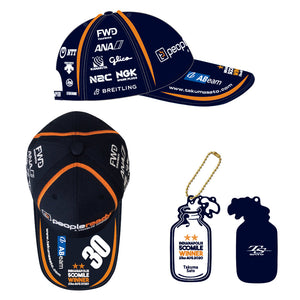 TS Driver's Cap INDY 500 WINNER 2020 Edition
Commemorative driver's cap to celebrate Takuma Sato's 2nd victory in Indy 500. Based on the Takuma's drivers cap he actually wore at Indy 500 2020. Specially designed "INDIANAPOLIS 500 MILE WINNER" logo is arranged to celebrate his great achievement of 2 time winning with 2 stars.
On the navy blue material made using light weight polyester twill, the orange stripe lines and all sponsor logos (except Honda "H" mark in the back) are embroidered. In the front, the logo of People Ready, the primary sponsor of #30 car, is arranged with 3D embroidery.
It comes with a specially designed acrylic key ring to commemorate the victory.
It shows "With you Japan" logo and some proceeds from the sales will be donated to its charity activities to help children in Tohoku.
Material: 100% polyester
Size: One size (57-59㎝)
Made in Vietnam
Only available in Takuma Sato US Shop.